By Doug Latta, Board Member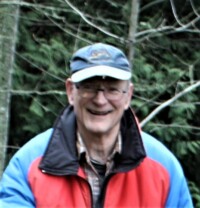 I recently became a director for the Seed Library of Galiano (SLOG). I soon learned how well organized and efficient the library operates, though it became clear to me how important and somewhat difficult it is to keep our seeds from becoming cross-pollinated.
Cross-pollination is when one plant pollinates a plant of another variety. The two plants' genetic material combines and the resulting seeds from that pollination will have characteristics of both varieties and is a new variety. Sometimes cross-pollinating is used intentionally in the garden to create new varieties. Cross-pollinated plants will not produce 'true' to the original parent and the results, while interesting, may be inferior.
SLOG has a detailed website which lists the seeds we have and describes the plant characteristics. seedlibrarygaliano.org.
There are various strategies to avoid cross-pollination. The first step is to understand isolation distances for each type of plant you are growing. Seeds Savers.org is an excellent resource for Growing Guides and Isolation Distances.
What is the purpose of SLOG?
We encourage Galiano growers to borrow organic, open-pollinated (not hybridized) seeds, plant them, save the seed from several of the plants (if possible) and return the saved seeds to SLOG. This will ensure that this new seed is viable and able to reproduce the same plant in the following years.
This borrow and return endeavour will keep the seeds fresh and the food supply sustainable year after year.
Our seed supply becomes the saving of heritage plants that have proven to be successful in the Galiano environment over many years.
How the library works
Go to our website seedlibrarygaliano.org. Review the Inventory. See if any seeds interest you.
Decide which seeds will work for you and your garden, considering sun exposure, growing difficulty, fenced areas, watering needs, and what you like to eat.
Become a member of the Seed Library, if not already. Membership is $10 per person. Email us for details on how to join: seedlibraryofgaliano@gmail.com
Through email, send us a seed request for up to five different seed packages.
Or, attend a SLOG distribution day in spring at the Galiano Library meeting room. You can sign out five different seed packages.
Plant and grow out the seeds in an area where the plants will not cross-pollinate with other varieties of the same type of plant. This can be difficult; check to see how much distance is required to achieve this. Seeds Savers.org is an excellent resource for Growing Guides and Isolation Distances. See https://www.seedsavers.org/isolation-methods
After the plant has produced a seed crop, dry them and return some to the SLOG library. This can take two growing seasons to produce seed (e.g. onions, carrots).
Watch for the days SLOG is open at the library. Communications happen through our email, Facebook Page @SeedLibraryofGaliano, and website seedlibrarygaliano.org.
Saving seed that is adapted to our region is increasingly important as our climate changes. Be part of this worthy endeavour and feed yourself and your family nutritious, happy food.